Parts List
Entry
1x IP-071 Imperial Palace – 2LCBT Mauler Floor
1x IP-001 Imperial Palace – Wide Entry Stairs
1x IP-006 Imperial Palace – Wide Entry Plain
1x IP-008 Imperial Palace – Wide Entry Gate 1 L
1x IP-009 Imperial Palace – Wide Entry Gate 1 R
Roof
4x IP-045 Imperial-Palace – 2×1 Trifectorium 4x Roof
4x IP-094 Imperial Palace – 1HCBT Triforium Side Wall L
4x IP-095 Imperial Palace – 1HCBT Triforium Side Wall R
Walls
3x IP-018 Imperial Palace – 2LCBT Gothic Base
3x IP-038 Imperial Palace – 2HCBT Gothic Wall
3x IP-071 Imperial Palace – 2LCBT Mauler Floor
Void Shield Projector
8x AG-063 Argos – Pavaise VS Projector Coils
4x IP-119 Imperial Palace – 2LCBT Small Vent Floor
1x IP-115 Imperial Palace – 2×2 Shield Pavaise Topping
Corners
4x AR-046 Ares – Stub Quad Flakk
8x IP-070 Imperial Palace – 1DHCBT Shutter Window
8x IP-072 Imperial Palace – 1LCBT Mauler Floor
8x IP-017 Imperial Palace – 1LCBT Base Wall
4x IP-043 Imperial Palace – 1×1 Gothic Top Roof 1
Flying Buttresses
8x IP-114 Imperial Palace – Flying Buttress Base
8x IP-103 Imperial Palace – DHCBT Flying Buttress 1
8x IP-113 Imperial Palace – Buttress Topping
And here is a full list of all the parts included in the September 2021 STL Package.
Assembly
1. Entry Gate & Walls
The flying buttress assembly is fairly straight foward.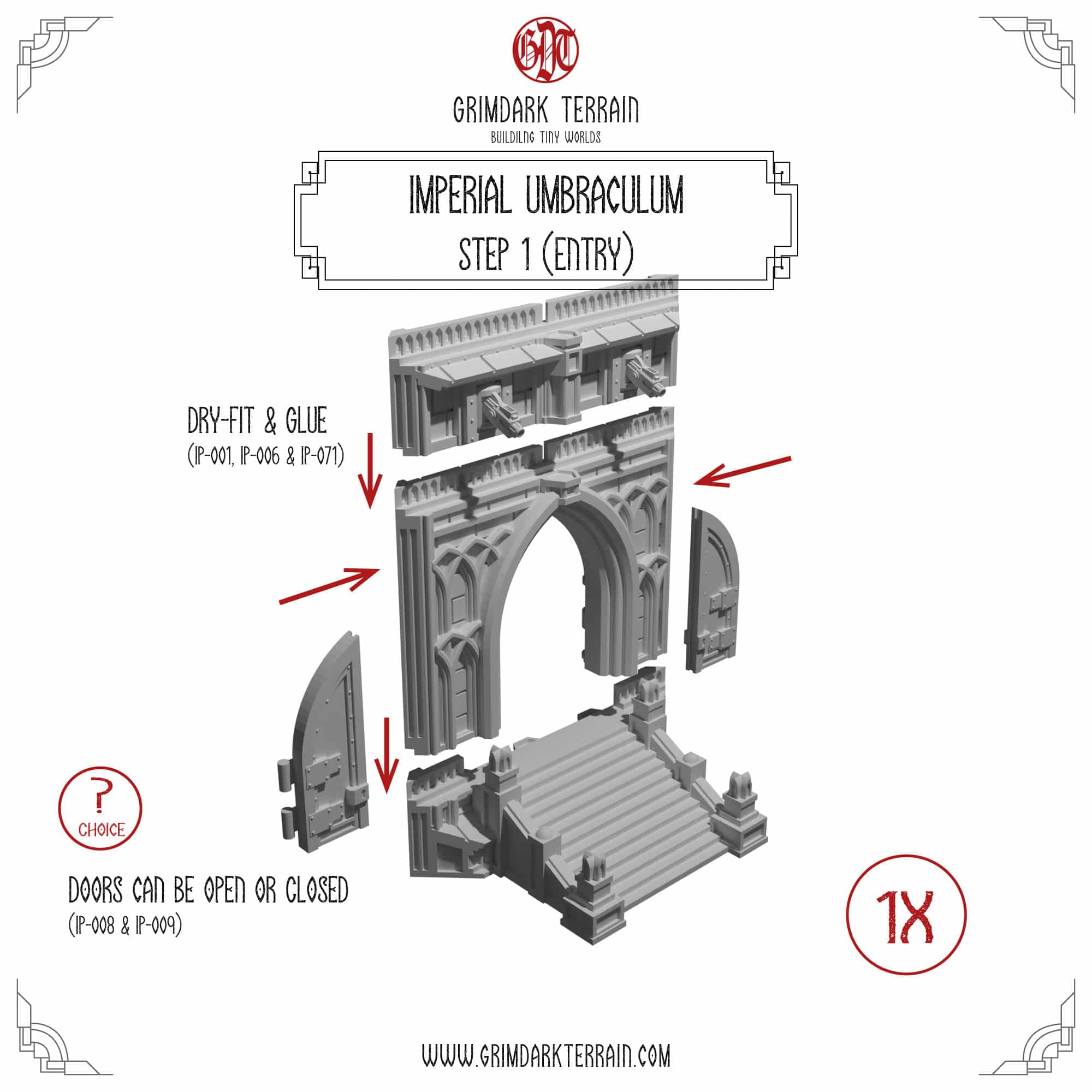 After that wou will need to build 3 more walls for the other sides. In case you prefer the Imperial Umbraculum to have several entries, that will work just fine. Just build addictional entries and reduce the number of walls accordingly.
2. Corner Walls
Corner
3. Corners and Flakk Emplacements
Corner
4. Wall Assembly
Corner
Parts Library
105mm
120mm
40mm
50mm
5mm Emplacement
80mm
Accessory
Adapter
Ares Forward Position
Argos
Balcony
Base Wall
Base Wall Pillar
Basing
Bastion
Battlement
Bridge
Building Accessories
Bulk Freight
Bunker
Campaign Map
Cargo
Chimney
Civilian Life
Civitas
Connector
Container
Container Handling
Conveyor Belt
Corner
Crawler
Crennelations
Crodax
Diagonal
Door
Drone Bay
Edge Topping
Emplacement
Entry
Excavator Maiores
Exhaust
Flatbed
Floor
Flooring
Flying Buttress
Fortification
Frame
Furniture
Gallicaedes
Gate
Generator
Greebles
Gun
Gun Emplacement
Harpyrax
Heresy Train
Hermes
Hex Grid
Industrial
Inward Corner
Ladder
Land Train
Landing Pad
Landing Pad Entry
Lift
Lorry
Loyalist
Makro-Bunker
Mega Tank
Mega Tube
Megabunker
Mono Rail
Monorail
Narrow Walkway
Ordinatus
Ornament
Pavement
Personell
Pillar
Pillar Topping
Pipeline
Pipelines
Platform
Plinths & Statues
Power Lines
Prison
Prison Complex
Quay
Railing
Rails
Ramp
Reductor
Roof
Ruins
Samson
Samson Cargo
Samson Freighter
Scatter Terrain
Ship
Spacer
Spire
Spire Tip
Stage Wall
Stair
Stairs
Street
Streets
Streets Accessory
SUper-Heavy Emplacement
Super-Heavy Weapon
Support
Tank
Technical
Terrain Insert
Tesla
Token
Topping
Tower
Tracks
Trade
Traitor
Transport
Tunnel
Vehicle
Vent
Void Shields
Walk
Walkway
Walkway Tube
Walkways
Wall
Wall Emplacement
Wall Slot
Weapon
Wheels
Wide Walkway
Window
Deselect all
---