3D printable Terrain for Epic Games
GrimDark Terrain are creating 3D printable terrain for 6mm to 8mm games of Epic 30k, Epic Armageddon, NetEpic and of course the Adeptus Titanicus! With our claim "building tiny worlds", we aspire to provide a comprehensive range of tiny scale building kits to enhance your gaming tables.
Here are a few things from the very long list of future releases
Palace Structures
Bridges & Walkways
Stairs, Ramps and Lifts
Heresy Train stuff (from cars to train stations)
Fortifications, Bunkers, Walls, Trenches
Guns, guns guns
Agridomes
Plasma Generators and many more
What do I get?
No matter if you are a GrimDark Terrain Member or did buy your files from our STL Shop, you will get high quality modular terrain for 3D printing. All pieces have been designed with the small 6mm – 8mm scale in mind and are fully modular.
For example: the range of bunkers can be integrated with the range of walls, which can be connected to the palaces which again can be integrated in the Civitas plastic kits you may have at home already. Whenever we release a new product line, we also release fitting conncetor pieces to add and connect to the parts you already printed.
Pre-supported Files
We know, supporting a model is pain. Which is why we're doing it for you! Every model STL you can buy in the Shop is already supported. All you need to do to prepare for printing is slicing in your preferred slicer. In addition to that we do test print every model before releasing it in our monthly packages.
To make adjusting the supports easy for you, we also include the *.chitubox file, in case you need to add a few supports.
How does GrimDark Terrain work?
The beating heart of GrimDark Terrain is our Architectus subscription, which makes for about 94% of our subscribers. Its a monthly subscription that provides you with a package of pre-supported STL for your 3D printing needs.
If you know already what you want you can purchase a subscription right away and ejnoy all the benefits coming with it today. Simply select the subscrition that is best for you and check out the basket. If you are unsure which subscription is best for you, please have a look at the subscription page.
Try it first: Get the test file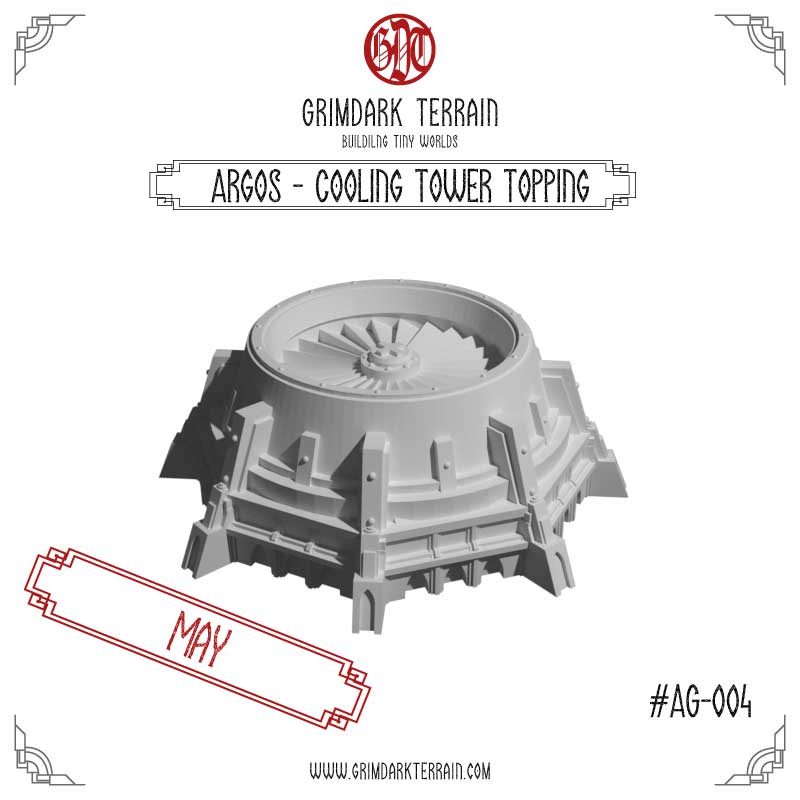 Not sure about subscribing yet? Just download the test file (a Cooling Tower Topping of the Argos Bunker Range) and give it a go on your own printer. The test file has been part of the May 2021 package and is of course compatible to all other elements from the Argos product line.
We test print every single model before release to make sure that it is a plug & play experience for our members.
Become a Member in 2 Minutes
These are the GrimDark Terrain Membership Subscriptions. If you're planning to get the files and simply print for yourself, the Architectus Membership is for you. If you're interested in becoming a Merchant (pront & sell), please have a look here.
All memberships grant you store discounts (10%, 35% or even 50%) and all memberships can be canceled at any time. In case you only want to be a member for one month, that is absolutely possible.
You prefer to buy single files?
If you're not a fan of subscriptions but still want the files, you can always purchase them individually from our file store. But bear in mind that as a subscriber you will
get the files a lot cheaper
get the files earlier
be part of a great community
Here is a small selection of files you can purchase from our store already:
Only wanna buy printed terrain?
In case you don't have access to a 3d Printer or just don't want to print a lot of terrain, you can always buy printed GDT stuff from the Merchants. In case you're in Europe, you can also buy directly from our shop for ready printed things.