Elevate Your Tabletop Gaming with Exclusive 3D Printing Files
At GrimDark Terrain, we believe that tabletop gaming is about more than just rolling dice and moving miniatures around a board. It's about immersive worlds, detailed terrain, and endless possibilities. That's why we're proud to introduce the Architectus Subscription – a monthly delivery of high-quality 3D printing files that will transform your gaming experience like never before.
Quality and Variety - Exclusive 3D Printing Files Every Month
With the Architectus Subscription, you'll get access to exclusive 3D printing files that you won't find anywhere else. Our expert designers and artists create stunning, detailed terrain that will bring your gaming table to life. Each month, you'll receive a new collection of files that will take your gaming experience to the next level.
All of our files are test-printed and pre-supported, which means that subscribers will not have to worry about adding supports themselves. You can start printing the files right away, without any additional work needed.
Our files are designed to be easy to use and easy to print, even if you're new to the world of 3D printing. Plus, our dedicated support team is always on hand to answer any questions you might have.
One of the unique features of GrimDark Terrain's Architectus Subscription is that all the various parts are compatible with each other and with the plastic Civitas range by GW. This means that you can mix and match pieces from different collections to create custom terrain that perfectly fits your gaming needs.
Competitive Pricing, Exceptional Value
We believe that high-quality 3D printing files should be accessible to everyone. That's why we offer the Architectus Subscription at a competitive price, without sacrificing quality or variety. For just $15 per month, you'll get exclusive access to our expertly designed terrain – that's less than the cost of a single miniature!
Join the GrimDark Terrain Community
When you subscribe to the Architectus Subscription, you're not just getting high-quality 3D printing files – you're also joining a community of like-minded gamers and creators. Share your creations with us on social media, get inspired by other subscribers' designs, and be the first to know about new releases and exclusive offers.
As a GrimDark Terrain subscriber, you'll also get access to special deals and discounts on our other products, including terrain kits, miniatures, and more. Plus, you'll be supporting a small business that's passionate about bringing your gaming experience to life.
A New Level of Immersion for Your Games
Whether you're playing Adeptus Titanicus, Epic 30k, Epic Armageddon, NetEpic, or any other tabletop game, the Architectus Subscription will take your gaming experience to the next level. Imagine battling across a stunning, highly-detailed landscape, complete with ruins, forests, and other obstacles. And the best part? All of the various pieces are compatible with each other and with the plastic Civitas range by GW, giving you even more customization options.
With the Architectus Subscription, the only limit is your imagination. So why wait? Sign up today and start exploring a world of endless possibilities with GrimDark Terrain.
Try it first: Get the test file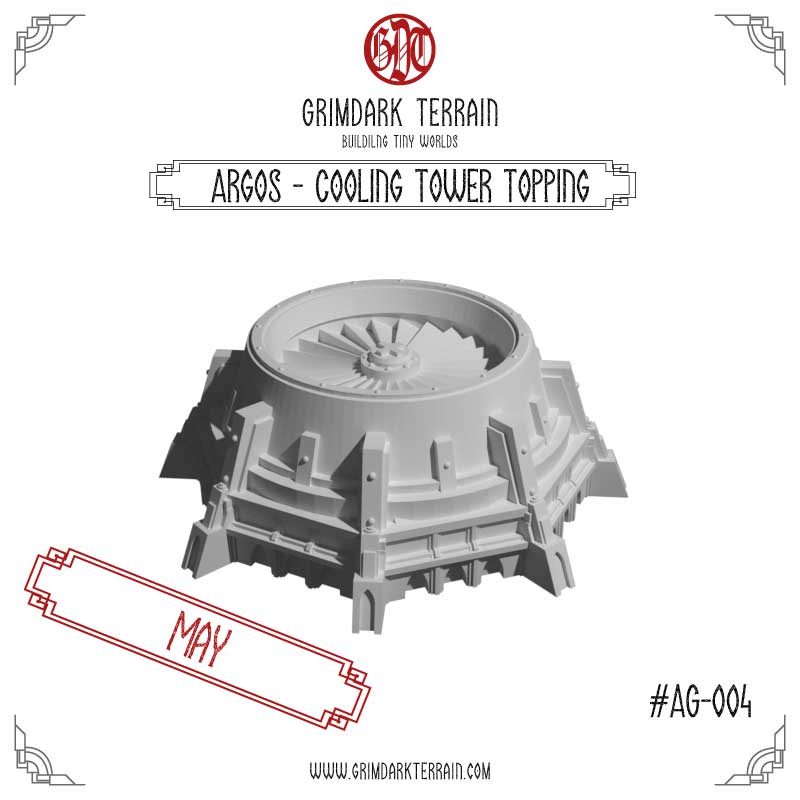 Not sure about subscribing yet? Just download the test file (a Cooling Tower Topping of the Argos Bunker Range) and give it a go on your own printer. The test file has been part of the May 2021 package and is of course compatible to all other elements from the Argos product line.
We test print every single model before release to make sure that it is a plug & play experience for our members.
Become a Member in 2 Minutes
These are the GrimDark Terrain Membership Subscriptions. If you're planning to get the files and simply print for yourself, the Architectus Membership is for you. If you're interested in becoming a Merchant (pront & sell), please have a look here.
All memberships grant you store discounts (10%, 35% or even 50%) and all memberships can be canceled at any time. In case you only want to be a member for one month, that is absolutely possible.
You prefer to buy single files?
If you're not a fan of subscriptions but still want the files, you can always purchase them individually from our file store. But bear in mind that as a subscriber you will
get the files a lot cheaper
get the files earlier
be part of a great community
Here is a small selection of files you can purchase from our store already:
Only wanna buy printed terrain?
In case you don't have access to a 3d Printer or just don't want to print a lot of terrain, you can always buy printed GDT stuff from the Merchants.