The Crypt Entry
Most Imperial worlds have extensive crypt systems beneath the surface. Over the millennia, a variety of uses have evolved: some crypts are used as shelters, others as places for occult rituals.
Part List
4 Stairs (4x IP-001 or IP-002)
1 Flooring (1x IP-058)
4 Wall (4x IP-077)
1 Roof (
Here are all parts need from the catalogue:
Accessory
Balcony
Building Accessories
Bunker
Civilian Life
Civitas
Connector
Container
Container Handling
Corner
Door
Edge Topping
Emplacement
Entry
Exhausts
Floor
Flooring
Fortification
Furniture
Gate
Generator
Gun
Gun Emplacement
Landing Pad
Lift
Megabunker
Mono Rail
Monorail
Personell
Pipeline
Plinths & Statues
Power Lines
Powerline
Prison Complex
Roof
Scatter Terrain
Spacer
Stairs
Support
Topping
Trade
Transport
Tunnel
Walkway
Walkways
Weapon
Wheels
Window
Deselect all
Step 1 – The Ground Level
Like always, remember to dry fit and maybe sand down the parts before glueing them in place. Check the flooring part for warping and heat and bend straight if necessary. Dryfit all the stairs to the flooring and and glue in place, once you're happy.
Make sure, the angling is set correctly at 90°.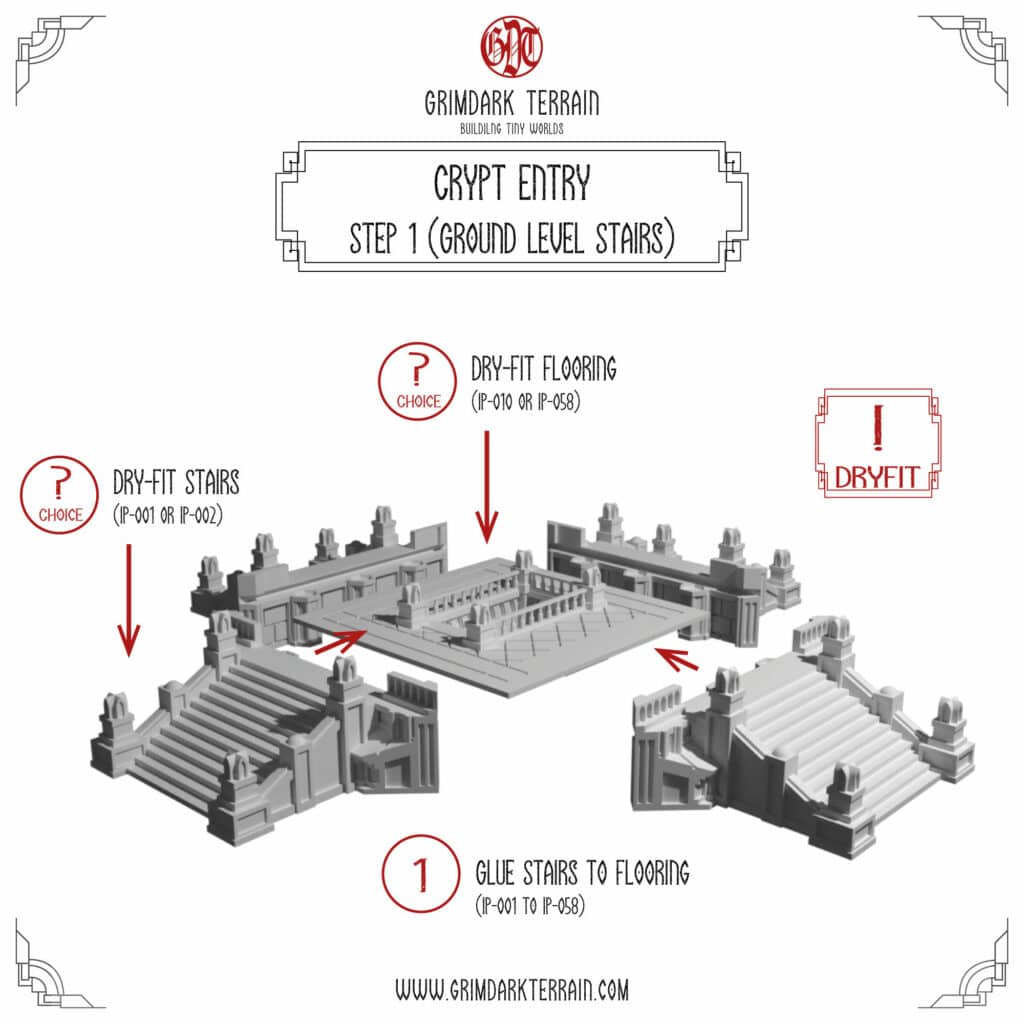 Step 2 – The Ground Level
Add 4x IP-005 to the result of step 1. The gate parts can be difficult to fit, so be prepared for some additional sanding.
Feel free to give the different sides some variety by adding IP-008 and IP-009 for closed or half open doors. If you leave the doors open, now is a good time to prime and paint the ground level.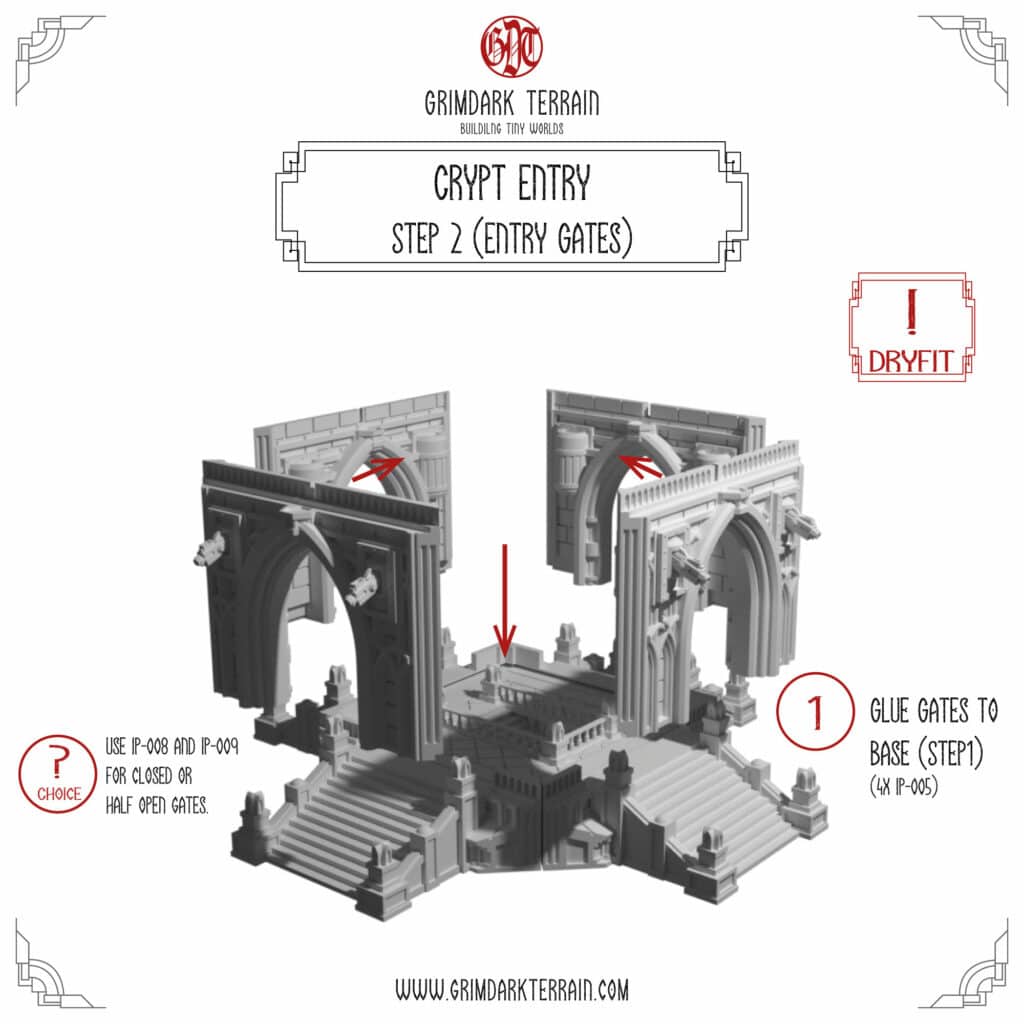 Step 3 – The Ground Level
Once all the parts have dried properly, build a corner with 2x IP-077 first and glue them in place. Then hold another piece next to it and slide the roof part IP-042 in. Close off the floor with another wall IP-077.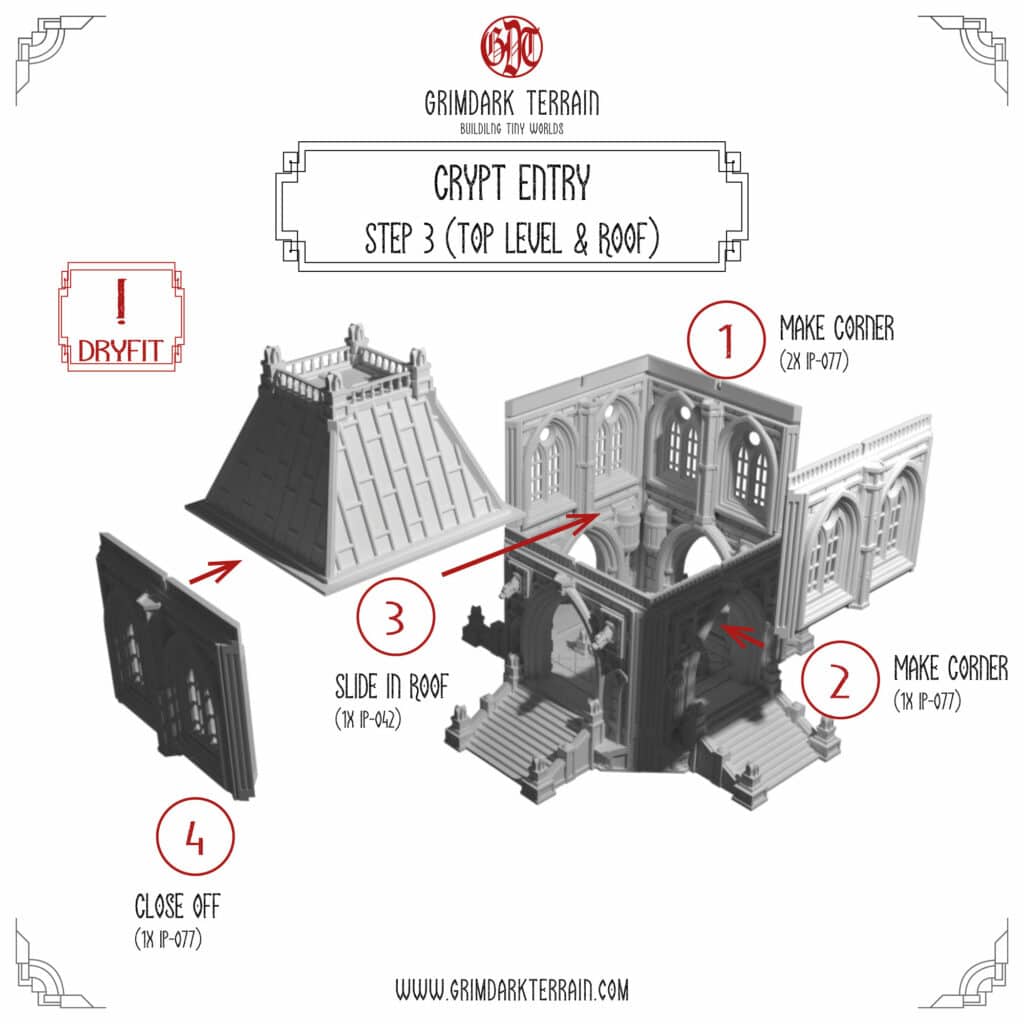 ---