Parts List
n CM-001 UHCM – Hex Frame
n CM-020 UHCM – Ownership Token
2x CM-005 UHCM – Corner 1
2x CM-006 UHCM – Corner 2
1x CM-018 UHCM – Top Row Blank
1x CM-019 UHCM – Blank Name Plate
Enough CM-003 UHCM – Column Blank
Enough CM-004 UHCM – Row Blank
Enough CM-015 UHCM – Battlegroup Token (1 for each player)
Enough CM-016 UHCM – Scout Token (1 for each player)
Enough CM-017 UHCM – Fleet Token (1 for each player)
Enough Tokens amd Connectors to mark and connect the whole Map
Gallery
Intended Use
First of all, this Template Construct is slightly different from the others, as it illustrates the intended use of the Universal Hex Campaign Map UHCM (base set released in January 2022). You can still build it as big as you want, but the intended use and the parts explanation is done in this post. Please note that:
The UHCM is not compatible to other plastic hex field maps
The UHCM is designed to be gaming system agnostic and fully "magnetisable" but you can of course just glue everything in place
The UHCM is designed for narrative gaming and is made up of two basic components: the Hex Grid and the Terrain Inserts. Building the Hex Grid is the major part and requires some printing. Adding the Terrain Inserts later will not require any assembly. Think of the Hex Grid as the nicely painted frame of your campagin map on which you can play any campaign in any gaming system. Want an AT campaign with buildings on a makro scale? Or maybe you prefer planets and warp routes? (BFG Terrain Inserts will come later in 2022). Just swap the terrain inserts and you're good to go.
The core piece of the UHCM is the CM-001 part. The Hex Frame, that holds the Terrain Insert. Every Hex Frame has 3 large hard points and 3 small hard points and an additional connector slot on each side. The centre of the Hex Frame features a magnet hole for the Terrain Inserts.
When magnetizing the map you will notice that you will need a lot of magnets. This is not a design flaw but a feature, as this is future proofing for multi-level gaming, different token systems and so on. For every Hex Fram (i.e. for every Hex Field) you will need
6x 2x1mm Magnets for the Connector Slots
3x 5x1mm Magnets for the large Hard Points
3x 2x1mm Magnets for the small Hard Points
Important: I cannot stress this enough, but make sure you always use the correct polarity for all slots!
Assembly
Like always remember to dry fit, watch your fingers and don't inhale resin dust. 🙂 First of all make sure, all Hex Frames have the right width. Edge to edge they should be 60mm.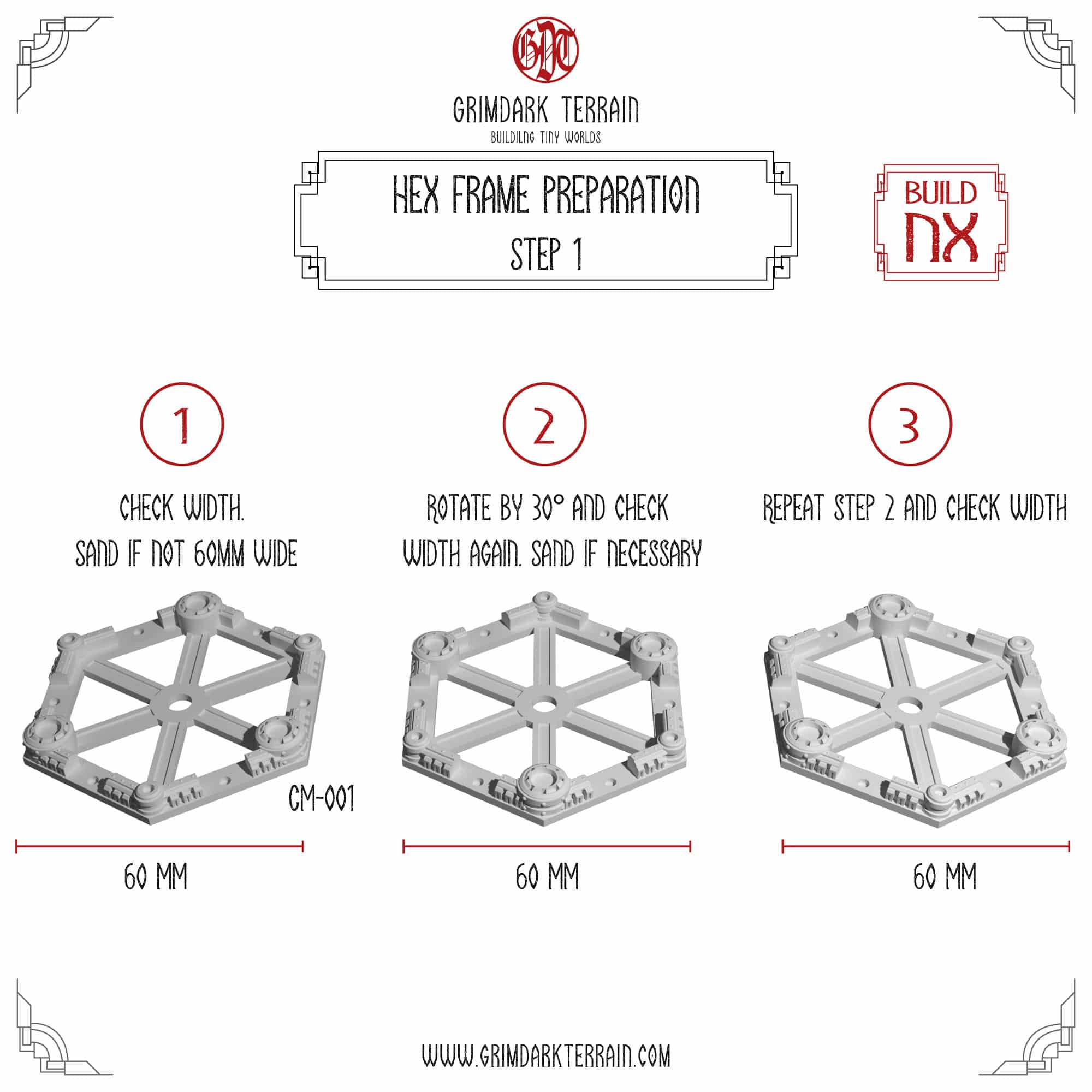 And now for the most important decision: How big of an UHCM do you wanna build? Personally, I think that the UHCM can never be too large. Maybe you playe a 4-8 player campaing in the future? You dont wanna be sorry then. But no matter how you decide, always bear in mind that you can cover unused hexes with a CM-002 Blank Terrain Insert at any time. That way the map looks tidy and you can adjust to smaller maps without any trouble.
The

Connectors, Row & Column Labels
Now that you have assembled the UHCM, you will need to think about filling it with connector pieces and labeling the rows and columns. While those are not absolutely necessary, they still complete the overall appearance of the map. The right use of labels allows to make better notes during the campaign (e.g. Player 1 attacks Player 2 on B2 from C3).
And then there are the Connectors, which – right now – are the least intuitive parts. For the time being, it will be enough to just print a sufficient amount of CM-007 connectors, but please note that there are a lot more connectors in the package.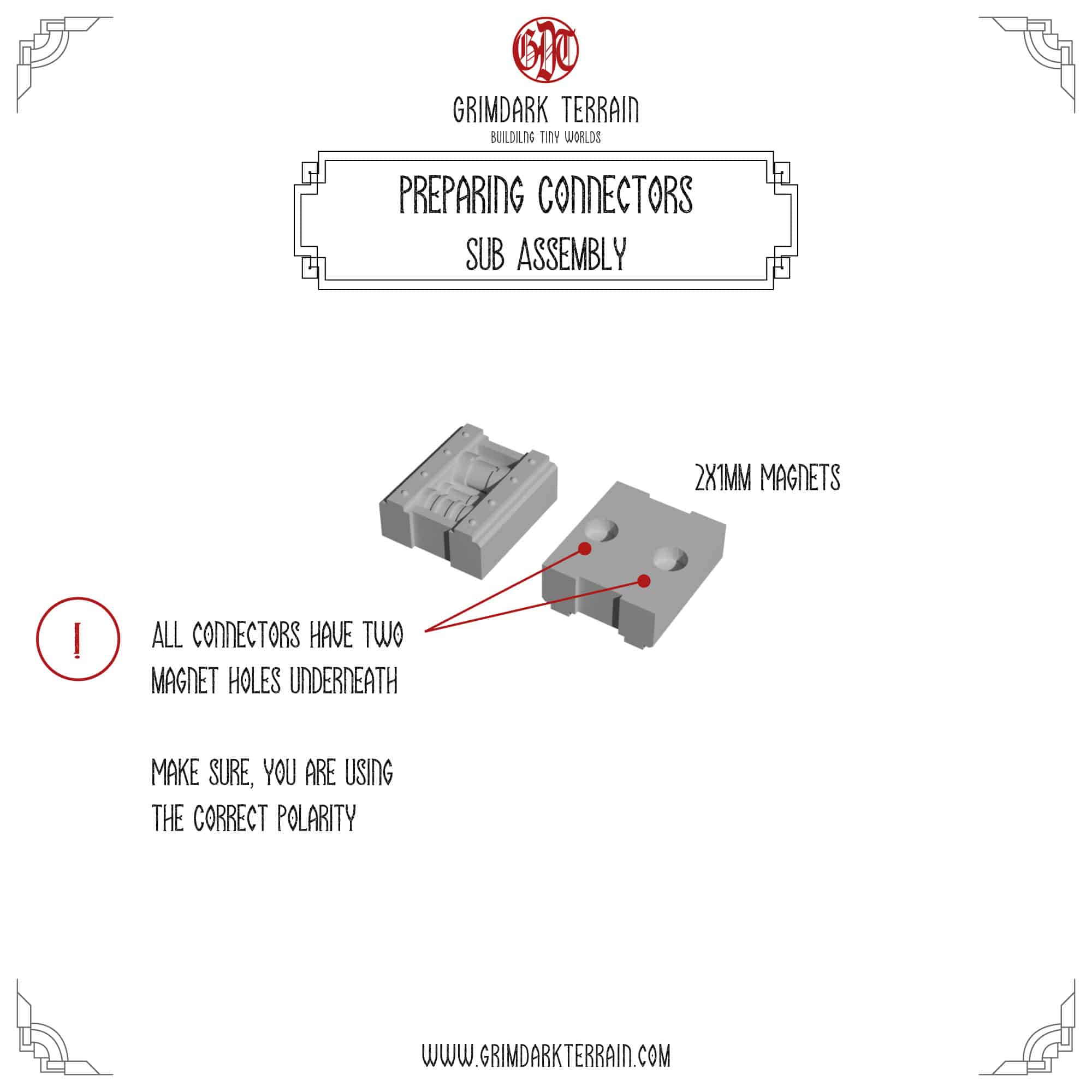 In the future connectors can serve a wide range of different roles. Here are two examples:
Indicate possible attack routes and give a bonus / malus accordingly. This represents how difficult it is to attack from one hex to another. (-> uphill battles)
Modify the movement speed between hexes.
Tokens
While you can use the UHCM with any campaign system, I of course strongly recommend to use the GrimDark Terrain Campaign system (out soon). It features a Strategic Value and a Campaign Value per Hex Field. Also you will need 1x Battlegroup, 1x Scout and 1x Fleet Token per player.
Every Player should also have enough CM-020 UHCM – Ownership Tokens to indicate ownership of the hex fields occupied.
Making the Map shine…
The UHCM is an item for campaigns that feature a great narrative, awesome terrain on the tables and lots of fun during gaming. To really make the map shine, there are two official recommendations:
Add a and then customize a CM-019 UHCM – Blank Name Plate by adding the Map Label in a 3D Programm of your Choice (super easy to use tutorial here)
Paint the Map and mount it to a nice wodden plinth
Parts Catalogue
105mm
120mm
40mm
50mm
5mm Emplacement
80mm
Accessory
Adapter
Ares Forward Position
Argos
Balcony
Base Wall
Base Wall Pillar
Basing
Bastion
Battlement
Bridge
Building Accessories
Bulk Freight
Bunker
Campaign Map
Cargo
Chimney
Civilian Life
Civitas
Connector
Container
Container Handling
Conveyor Belt
Corner
Crawler
Crennelations
Crodax
Diagonal
Door
Drone Bay
Edge Topping
Emplacement
Entry
Excavator Maiores
Exhaust
Flatbed
Floor
Flooring
Flying Buttress
Fortification
Frame
Furniture
Gallicaedes
Gate
Generator
Greebles
Gun
Gun Emplacement
Harpyrax
Heresy Train
Hermes
Hex Grid
Industrial
Inward Corner
Ladder
Land Train
Landing Pad
Landing Pad Entry
Lift
Lorry
Loyalist
Makro-Bunker
Mega Tank
Mega Tube
Megabunker
Mono Rail
Monorail
Narrow Walkway
Ordinatus
Ornament
Pavement
Personell
Pillar
Pillar Topping
Pipeline
Pipelines
Platform
Plinths & Statues
Power Lines
Prison
Prison Complex
Quay
Railing
Rails
Ramp
Reductor
Roof
Ruins
Samson
Samson Cargo
Samson Freighter
Scatter Terrain
Ship
Spacer
Spire
Spire Tip
Stage Wall
Stair
Stairs
Street
Streets
Streets Accessory
SUper-Heavy Emplacement
Super-Heavy Weapon
Support
Tank
Technical
Terrain Insert
Tesla
Token
Topping
Tower
Tracks
Trade
Traitor
Transport
Tunnel
Vehicle
Vent
Void Shields
Walk
Walkway
Walkway Tube
Walkways
Wall
Wall Emplacement
Wall Slot
Weapon
Wheels
Wide Walkway
Window
Deselect all
---