This months package is packed with new parts for several GrimDark Terrain product lines. In June you will see updates to the Heresy Train, Olympus Mons and Argos. Also we introduce the new Aeolus Airfield.
Please note that there is several pieces with abbreviations like MCBT or LCBT. The letters CBT stand for "Civitas Building Tile" and refer to the heights low (L), medium (M) and high (H). If there is a number as a prefix, that number refers to the width of a civitas plastic piece. As an example: a 2 HCBT piece refers to the largest civitas size, a 1 LCBT piece refers to the smallest. 😉 You want to keep that in mind when building, because the mechanicum building are fully compatible to GW's range.
Full list of parts is here (Excel).
Now for the parts in June 2021:
Aeolus Airfields
The Aeolus Airfields are having their debut in June 2021. The Aeolus range is all about planes, landing pads, com towers and anything else one would expect on and around an airfield.
Aeolus Landing Pad Corner L (AE-001)
Aeolus Landing Pad Corner R (AE-002)
Aeolus Landing Pad Corner (AE-003)
Aeolus Landing Pad Ramp (AE-004)
Olympus Mons (Mechanicum)

The first release in April 2021 are the first pieces for our Olympus Mons line. With the Forge Fane in the May 2021 pack, we are not further expanding the Olympus Mons Range.
Various straight walls complement the exisitng range with diefferent types of exhausts, pod ejectors and fans
The Psi Pod Storage bank is the main building of the May 2021 release
New toppings allow for amniotic tanks and terraforming fans
Argos Frontline Bunkers
After the main release in March 2021, the Argos Bunkers are also getting a new upgrades. Following our community requests, the Argos line get new parts this month:
Argos Experimental Tech Topping (AG-005)
Void Shield Rack (AG-006)
Void Shield Dishes (AG-007)
Combined these parts form the new Argos Void Shield Bunker (1x AG-005, 1x AG-006 and 6x AG-007):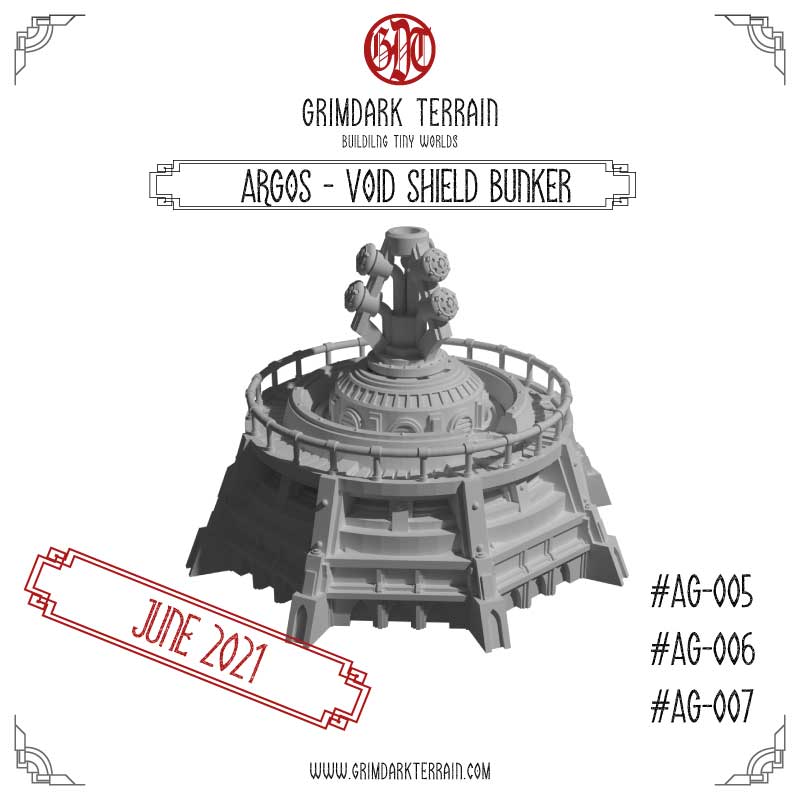 Heresy Train
The Heresy Train got a new waggon update:
A liquid transport waggon (HT-004)
Surprise
And last but not least you will get a small titanic surprise, like in every package. Hope you like fire?